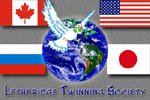 About us
Culver City
Timashevsk
Towada City
City of Great Falls
---
Constitution
---
Meetings
Next meeting
---
Upcoming Events
Recent events
Election results
2016 events
2015 events
2014 events
2013 events
2012 events
2011 events
2010 events
2009 events
2008 events
2007 events
2006 events
---
AJTMA Conference
Album
---
Centennial Project
Album
---
President corner
---
Links
Wiki: Lethbridge
www.sister-cities.org
www.ajtma.com
Hibikiya Japanese Drummers
Nikka Yuko Japanese Garden
Volunteer Lethbridge
---


---

Our recent events





Welcome Rolanda Richard as a Treasurer of the Society!
April 20th, 2017

The Lethbridge Twinning Society welcomes Rolanda Richard recently appointed to the position of Treasurer of the Society.

Rolanda is a long-time member of the Society and has been a constant supporter and contributor.

Rolanda takes over the Treasurer position from Terri DeMerchant who has moved to "live the life" in Calgary! Welcome Rolanda and thank you!


Culver City's Centennial Celebration visit
September 23 to October 02, 2016


On September 23 to October 02, five delegates from the Lethbridge Twinning Society were guests of Culver City Sister City Committee. We attended the Centennial Celebration of the City of Culver City.

It was an awesome visit and a great honour to participate in the festivities. Building upon our Sister City relations that began in 1989 was a privilege. Citizen diplomats do much in bringing our communities together in peace friendship and understanding. Since 1989 there have been several exchange visits between residents of Lethbridge and Culver City. Sports teams, school music groups, youth ambassadors and Municipal elected officials have participated in these exchange visits. Most prominent was our delegation visit to Culver City along with former Mayor Bob Tarleck when he was presented the Key to the City of Culver City!

See more about our 2016 visit at Culver City events page.