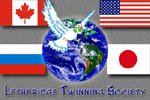 About us
Culver City
Timashevsk
Towada City
City of Great Falls
---
Constitution
---
Meetings
Next meeting
---
Upcoming Events
Recent events
Election results
2016 events
2015 events
2014 events
2013 events
2012 events
2011 events
2010 events
2009 events
2008 events
2007 events
2006 events
---
AJTMA Conference
Album
---
Centennial Project
Album
---
President corner
---
Links
Wiki: Lethbridge
www.sister-cities.org
www.ajtma.com
Hibikiya Japanese Drummers
Nikka Yuko Japanese Garden
Volunteer Lethbridge
---


---

Our recent events





Great Falls, Montana, USA Ice Breaker Road Race
April 22 – April 23, 2017

The Lethbridge Twinning Society Celebrates Canada's 150th Anniversary south of the border with Hibikiya in Great Falls, Montana.

On April 22, members of the Lethbridge Twinning Society (LTS) journeyed to Great Falls for the annual Ice Breaker Road Race. LTS members enjoyed a hearty welcome from Great Falls Mayor, Bob Kelly. Lethbridge and Great Falls were able to culminate the visit both as "sister cities" and in celebration of Canada's 150th birthday.

In the spirit of friendship, an Alberta flag was hung at the Civic Centre where the hub for the Ice Breaker Road Race was located. Along for the journey was Lethbridge's authentic Japanese Taiko drum group, HIBIKIYA, lead by Bryan Pereverseff. The group performed throughout the day, which was a relief for the runners when the weather took a turn for worse.

HIBIKIYA even performed for Great Falls Mayor, Bob Kelly at a private residence on the evening prior to the Ice Breaker event. Both visitors and hosts were able to spend time perusing Great Falls, taking in the sites, which was followed by an impressive meal cooked by Montana's Sister City members before LTS members hit the road for Canada.

The trip to Great Falls has received attention across multiple media platforms.

Read the full article "Ice Breaker helps Lethbridge build bonds with Great Falls" in the Great Falls Tribune.

Watch KRTV's footage of the visit: "Lethbridge Twinning Society visits Great Falls".

For more photos, visit Lethbridge Twinning Society's Facebook Page.

A special thanks to the Canadian Consulate in Denver, Colorado for assisting the Lethbridge Twinning Society in making this visit a reality.


Welcome Rolanda Richard as a Treasurer of the Society!
April 20th, 2017

The Lethbridge Twinning Society welcomes Rolanda Richard recently appointed to the position of Treasurer of the Society.

Rolanda is a long-time member of the Society and has been a constant supporter and contributor.

Rolanda takes over the Treasurer position from Terri DeMerchant who has moved to "live the life" in Calgary! Welcome Rolanda and thank you!


Culver City's Centennial Celebration visit
September 23 to October 02, 2016


On September 23 to October 02, five delegates from the Lethbridge Twinning Society were guests of Culver City Sister City Committee. We attended the Centennial Celebration of the City of Culver City.

It was an awesome visit and a great honour to participate in the festivities. Building upon our Sister City relations that began in 1989 was a privilege. Citizen diplomats do much in bringing our communities together in peace friendship and understanding. Since 1989 there have been several exchange visits between residents of Lethbridge and Culver City. Sports teams, school music groups, youth ambassadors and Municipal elected officials have participated in these exchange visits. Most prominent was our delegation visit to Culver City along with former Mayor Bob Tarleck when he was presented the Key to the City of Culver City!

See more about our 2016 visit at Culver City events page.