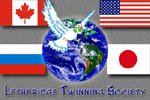 About us
Culver City
Timashevsk
Towada City
City of Great Falls
---
Constitution
---
Meetings
Next meeting
---
Upcoming Events
Recent events
Election results
2016 events
2015 events
2014 events
2013 events
2012 events
2011 events
2010 events
2009 events
2008 events
2007 events
2006 events
---
AJTMA Conference
Album
---
Centennial Project
Album
---
President corner
---
Links
Wiki: Lethbridge
www.sister-cities.org
www.ajtma.com
Hibikiya Japanese Drummers
Nikka Yuko Japanese Garden
Volunteer Lethbridge
---
Advisory Commission
on International
Relationships
---


---

Our greatest events in 2015


The role of cities and their communities in promoting world peace, tolerance, and development
December 18, 2015

Join us to hear from Mayor Lutfi Haziri from Gjilan, Kosovo. He will be speaking about "The role of cities and their communities in promoting world peace, tolerance, and development". The program begins at 7:00PM at the Lethbridge City Hall Atrium. The Lethbridge Twinning Society is pleased to host Mayor Haziri.

BIO OF LUTFI HAZIRI

Mayor of Gjilan - Republic of Kosovo

Lutfi Haziri was born on 8 November 1969 in Llovce, Municipality of Gjilan, Kosovo. He is a biologist by training and has served in the leadership of the University of Prishtina students' union during the 1990s.

Between 1990 and 1999, he was an active member of the Ministry of Interior of the Republic of Kosovo, and directed several activities within the parallel structures of government in Kosovo.

In March 1990, he was elected Chair of the Youth Forum of the Democratic League of Kosovo (LDK) in Gjilan, a position which he successfully held until 1997, when he became Deputy Chair of the LDK Branch in Gjilan as well as Member of the General Council of LDK (until 2000).

In November 1998, Haziri was arrested and imprisoned under accusations by the Serb regime for leading Kosovo Liberation Army activities in the Zone of Karadak in the Gjilan region. After international intervention on his behalf, he was released from prison and in August 1999, he became Deputy Mayor of the Municipality of Gjilan. In Kosovo's first local elections of November 2000, Haziri was elected Mayor of Gjilan, thereby becoming the young Mayor ever elected in Kosovo and Europe, in which position he successfully served until December 2004.

While Mayor of Gjilan, Haziri was also elected Chairman of the Association of Kosovo Municipalities (AKM) in June 2001. As Chairman of AKM, he led Kosovo's first delegation to the Congress of Local and Regional Governments (Council of Europe) in Strasbourg. At the request of the President of Kosovo, Dr. Ibrahim Rugova, Haziri became Kosovo's first Minister of Local Government Administration in the Government of Kosovo in December 2004. At the same time, Haziri also became a member of the Presiding Council of LDK. Between 2006 and 2008, Haziri also served as Deputy Prime Minister of Kosovo, whereas between 2008 and 2010, he led the Parliamentary Caucus of LDK in the parliament of Kosovo. He was first elected to the Parliament of Kosovo in 2006.

In 2010, Haziri is re-elected to the Parliament of the Republic of Kosovo and served as Chairman of the Parliamentary Committee on European Integration, until November 2013 when he returned to Gjilan after being elected Mayor of Gjilan in Kosovo Local Elections 2013. Lufti Haziri is an honorary citizen of the Luterbah Municipality (Strasbourg, France), Lexington, and Hot Springs (Arkansas, US). He also holds the honorary title of Colonel of Kentucky (Kentucky, US).

Apart from his university degree in biology from the University of Prishtina, Haziri also holds an OSCE Management Diploma, and other certificates from Georgetown University, Colorado University, US Institute for Peace, etc.

Most recently (May 2015), Haziri has been elected Chair of the LDK in Gjilan.

He is married and father of four children.




Lethbridge Twinning Society: visitors from Russia and Japan
Septermber, 2015





These are the "grass roots" relationships which our Society encourages and demonstrates! Here we have "Rin" for our Sister City in Towada City, Japan and "Genna" from Russia. Together for their first times meeting each other and sharing tea!

Rin is a homestay student who is currently in Lethbridge studying English as a Second Language (ESL) at Flexibility Language Systems while Genna is a friend of the family currently visiting Lethbridge! This was a unique opportunity for Rin and Genna. Rin had never met a real Russian from Russia before and likewise Genna had never met a real Japanese person from Japan! Surprisingly they communicated well, shared some pictures on their phones, and enjoyed tea together (sorry, no Vodka or Sake!)

We are encouraged by the ambition for these young people who are challenging themselves to learn and explore thus enriching their life skills and opening windows and door internationally! Lethbridge Twinning Society makes these opportunities happen.


10 year annuversary!
August 10, 2015





Yes, a decade has passed! In 2005 the Lethbridge Twinning Society undertook a project to erect a monument at the SE corner of our Lethbridge City Hall. At that time, Jubiel was a babe in arms! Jubiel was dedicated as the designate for the monument with the expectation that in 2055 the time capsule contained inside the monument will be opened. It was great to have Jubiel return to the monument this past this summer in celebration of the tenth year anniversary of the monument.

• The monument contains rocks for each of our sister cities and the time capsul has a collection of memorabilia and well wishes for members and associates of the Lethbridge Twinning Society.


"My Encounter with Japan" Photo Contest
May 13, 2015


The Consulate-General of Japan in Calgary is pleased to announce its second Japan Photo Contest. We are currently open for submission of photographs in line with this year's theme of "My Encounter with Japan". Enter to win prizes and a chance to have your photograph displayed at Consulate-General of Japan in Calgary events.

Photos do not need to be taken in Japan. In fact, the photo can have been taken anywhere in the world - Japan, Canada or otherwise - as long as it coincides with the designated theme.

The deadline for submission to the Consulate-General of Japan in Calgary is JULY 24th, 2015 (only one submission per person).

Please download the conditions form for all other specific conditions and submission details.


Young Artists and Authors Showcase
May 1st, 2015


The Lethbridge Twinning Society would like to invite those interested in submitting their artwork, essays, poems or video inspired by what their impression of what "Connecting Communities for Peace and Prosperity".

The Lethbridge Twinning Society is a proud member of Sister Cities International as we foster Twin City relations with: Timashevsk, Russia, Towada City, Japan, Culver City, California as well as Great Falls, Montana. Please see the information noted below or contact the Lethbridge Twinning Society at 403-381-0038.

Sister cities youth are encouraged to submit artwork, essays, poems, AND videos inspired by what this year's theme "Connecting Communities for Peace and Prosperity" means to them!

Sister Cities International founder President Dwight D. Eisenhower reasoned that, by becoming friends, people of different cultures could celebrate and appreciate differences. If people connect across national boundaries and get to know each other, their mutual respect and understanding can transform diplomatic relations and foster peace and prosperity.

Young artists and authors from around the world are encouraged to use their imagination. What is your vision of peace? How does connecting globally allow you and your community to prosper?

Grand prize winners will receive $1,000 each. Winning and finalist artworks, essays, and poems will also be displayed in various U.S. cities next year during the 2015 Young Artists and Authors Showcase tour.

Submitting a film: Create a short film using the theme "Connecting Communities for Peace and Prosperity" as inspiration. Simply follow these easy guidelines:

1. Create a short film 1-10 minutes of length
2. Submit your film through Cinequest's easy online process by clicking on this link, filling out the requested information, and following the indicated instructions: Cinequest Film Submissions Form

The deadline for sending in entries is May 1, 2015. For guidelines and entry forms, please visit: Young Artists and Authors Showcase.
Please note, there is NO application fee to enter this competition.


Annual "Ice Breaker" Road Race
Great Falls, Montana - April 26th, 2015

Park Bridge Estates - 2927 – 29th Street South
Join members of the Lethbridge Twinning Society as we head to our Sister City, Great Falls, Montana to participate in the Annual "Ice Breaker" Road Race on April 26th!


Join over 4,100 runners, joggers and fitness walkers who enter the Ice Breaker Road Race each year!


For more information please contact Director for Great Falls Relations, Ed @ ed.deyoung@gmail.com


Bryan with TaikoKozo at Honolulu Festival
Wednesday, March 25, 2015




Meeting at the US Consulate
Calgary, Alberta - March 20th, 2015

On March 20th Director for Culver City Relations, Michael Bennett and Harold Pereverseff were invited to a meeting at the US Consulate in Calgary.

We had the opportunity of sharing the vision of the Lethbridge Twinning Society and updating the US Consulate with respect to our Sister Cities in Culver City, California and Great Falls, Montana.

We met with Casey Bohn and Deanna Cameron Duboque both of the Public, Press, Educational and Cultural Affairs section at the Consulate.

The meeting was most successful and we look forward to a continued collaboration and cooperation between the Lethbridge Twinning Society and the US Consulate.


Honolulu Festival
Honolulu, Hawaii - March 6-8th 2015

Bryan Pereverseff from the Southern Alberta Taiko Society "Hibikiya" attended the Honolulu Festival in Honolulu, Hawaii on March 6, 7, 8 – 2015.

He continue his pursuit of excellent authentic Japanese Taiko that he will bring back to our Community in Lethbridge and Alberta.

Bryan participated with the Taiko Group, TaikoKozo from Chiba, Japan.


Save the date!
Lethbridge, AB - January 11th (Sunday) - 5:30PM - 8:30PM

Park Bridge Estates - 2927 – 29th Street South
Join us for a Pot Luck Dinner Reception as we welcome 2015!
Members – Family and Friends are always welcome

Please RSVP to Fran at 403-381-7882.
(If you get the answering machine, please leave message as to what you are binging for your pot luck dish).