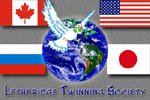 About us
Culver City
Timashevsk
Towada City
City of Great Falls
---
Constitution
---
Meetings
Next meeting
---
Upcoming Events
Recent events
Election results
2016 events
2015 events
2014 events
2013 events
2012 events
2011 events
2010 events
2009 events
2008 events
2007 events
2006 events
---
AJTMA Conference
Album
---
Centennial Project
Album
---
President corner
---
Links
Wiki: Lethbridge
www.sister-cities.org
www.ajtma.com
Hibikiya Japanese Drummers
Nikka Yuko Japanese Garden
Volunteer Lethbridge
---
Advisory Commission
on International
Relationships
---


---

Culver City Relations

Natalie Shaby celebrates with her daughter, Tanya. (Photo by Lexi Rohner)

Natalie Shaby Lands the Double Axel and Strikes Gold

by Lexi Rohner and Laura Fawcett

(4/5/06) - Natalie Shaby wandered around the lobby of the Dr. Pepper StarCenter in Dallas, Texas, Saturday repeating the same phrase over and over. "I'm shocked," she said. "I'm just shocked."

Considering it was her first time competing at the U.S. Adult Championships and she won the gold in championship masters ladies, it was no surprise she was shocked. On the other hand, she did land five double jumps, including a double Axel, so maybe it shouldn't have been a surprise after all.

Skating in the first position, Shaby (All Year FSC) collected four first-place ordinals en route to the gold medal. The 42-year-old is no stranger to skating success - she is a former Canadian junior silver medalist and international competitor for her home country.

Although she does some coaching in the Los Angeles area, Shaby is primarily a full-time student at UCLA studying environmental issues.

On the ice she delighted the crowd with good footwork, a stag jump and a fast program-ending scratch spin.

Silver medalist Alexandra Dunne-Bryant (Chiller FSC) opened her program with two gorgeous spirals - one forward and one backward. She landed six clean doubles, including a double Lutz-half loop-double toe combination.

Dunne-Bryant, 24, began skating at age 4. Her grandparents lived near a pond, and her mom got tired of seeing her fall down so she put little Alexandra in lessons. However, she had been away from the sport for about seven years when she started training seriously again in June 2005. During her time away she had a series of setbacks that kept her from returning, including an ankle injury, antibiotic-resistant pneumonia, surgery and most importantly, the passing of her mother.

"It took a while to put me back together," she said. "I really wanted to come back."

Just two months after resuming serious training, she competed at the 2006 U.S. Collegiate Championships in Hawaii, where she finished third in one of two silver rounds. She didn't have her best skate there, but months of increased training helped make the difference in Dallas.

"My goals here were to skate with power, smoothness and ease of movement," she said. "It was a lot of fun."

Last year's champion was this year's bronze medalist. Elizabeth Floriani (All Year) skated a beautiful program to "The Mission" and collected three first-place ordinals. She stepped out of her double Axel attempt but landed seven other doubles, including a double loop-double loop combination. She connected with the audience during her solid footwork sequence - smiling at the crowd as she went down the ice.

Fourth place went to Dianna-Lynne Wells (Louisville SA), who skated to a Beethoven medley. Wells' high-spirited emotion was evident, as she smiled throughout the program and even blew a kiss to the audience at one point. Jumps included an Axel, double flip-half loop-double Salchow combination, double Lutz and double loop-double loop combination.